Sponsoring the Delmarva Paddling Weekend puts your business directly in view of our paddlers, who spend money while they're here on lodging, meals, transportation, and outdoor fun. According to the fifth annual Special Report on Paddlesports, participation in paddlesports is on the rise. In 2014, 21.7 million Americans — 7.4 percent of the population — enjoyed paddling. This represents an increase of more than 3 million participants since the study began in 2010. Paddlers averaged 7 annual outings in 2014, up from 6.8 the year before. Collectively, paddling participants made nearly 216 million outings.
2015 Special Report on Paddlesports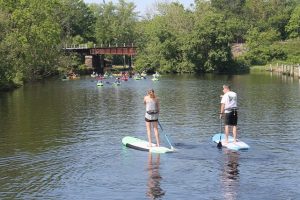 Our goal with the Delmarva Paddling Weekend is to showcase our world-class paddling opportunities to our guests, so that they will go home, tell their friends, and come back again for future outings. The Delmarva Paddling Weekend is designed to also showcase Laurel, DE and Snow Hill, MD, as paddling "Trail Towns" — central locations to stay, play, dine and drink before and after your paddling experience.
Sponsorship levels are tailored to suit any business. Join our fleet and promote your bus
iness to one of the largest growing sectors of the outdoor travel industry!
For more information, please contact the DPW Organizers:
Jim Rapp – dlitedirector@comcast.net – (443) 614-0261
Dave Wilson – marshhawk67@gmail.com – (443) 523-2201?
Sponsorships
Download our form and pay with a check or use the buttons below to become a sponsor.
River Sponsor – $5,000
Your large company logo on 200 11″ x 17″ posters (must have commitment by July 15, 2016)
Your literature, product samples, coupons, and promotional materials given to registered DPW paddlers
Your large prominent logo and website link on the top of the DPW website homepage
Your company logo and link on all e-newsletters (20+), including one "sponsor spotlight" article about your business, distributed to DPW subscribers
Your company logo on the DPW Facebook page cover image for one year
Your company name listed on all DPW press releases
Bald Cypress Sponsor – $2,500
Your large company logo on 200 11″ x 17″ posters (must have commitment by by July 15, 2016)
Your literature, product samples, coupons, and promotional materials given to registered DPW paddlers
Your large prominent logo and link to your business website on the DPW website
Your company logo and link on all e-newsletters (20+), including one "sponsor spotlight" article about your business, distributed to DPW subscribers
Your company logo on the DPW Facebook page cover image for one year
Your company name listed on all DPW press releases
Bald Eagle Sponsor – $1,000
Your company logo on 200 11″ x 17″ posters (must have commitment by by July 15, 2016)
Your logo and link to your business website on the DPW website
Your logo and link on all e-newsletters (20+), distributed to DPW subscribers
Your company name listed on all DPW press releases
Wood Duck Sponsor- $500
Your small company logo on 200 11″ x 17″ posters (must have commitment by by July 15, 2016)
Your small logo and link to your business website on the DPW website
Your small logo and link on all e-newsletters (20+), distributed to DPW subscribers
Your company name listed on all DPW press releases
Creek Sponsor – $250
Your company name on 200 11″ x 17″ posters (must have commitment by by July 15, 2016)
Your company name and link to your business website on the DPW website
Your company name and link on all e-newsletters (20+), distributed to DPW subscribers
Your company name listed on all DPW press releases
Trail Towns & Outfitters Sponsor – $100
(special for accommodations, outfitters, restaurants and small businesses)Your company name and link to your business website on the "Trail Towns" or "Outfitters" page of the DPW website
Your company name and link on all e-newsletters (20+), distributed to DPW subscribers