For those who want an all-day adventure in the heart of the Chesapeake Bay, we're running special guided trips to Smith Island that will cover close to 5 miles of the water trails around the village of Tylerton. We have prices for rental kayaks from the Pocomoke River Canoe Company, and prices for folks who want to bring their own boats.
We are only able to run these paddling trips on Tuesdays, Wednesdays and Thursdays in 2017 before November 4. These trips require a minimum of six people. If you are interested in paddling Smith Island with us on a Tuesday, Wednesday, or Thursday before November 4, 2017, please contact Jim Rapp at dlitedirector@comcast.net with your best available dates.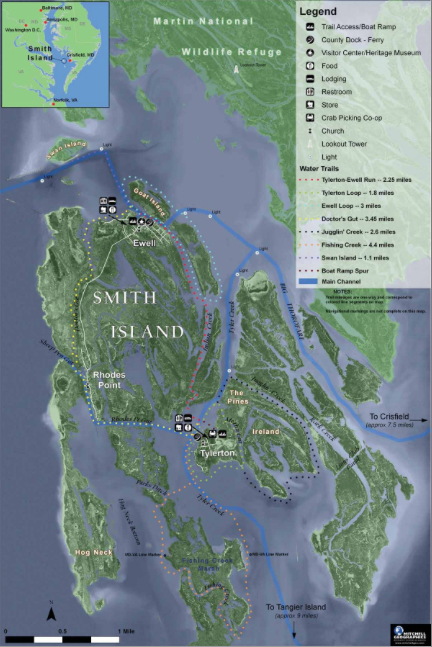 Trip Details
We'll meet at the city dock in Crisfield, MD, at 8:30 a.m. to load kayaks aboard the Capt. Jason II. We'll depart on the ferry around 9:00 a.m. and unload our boats in Tylerton upon arrival to Smith Island. We'll begin our paddle around 10:00 a.m. Along the way, we'll search for the marshes and open water for egrets, herons, and Brown Pelicans (Smith Island is one of the most northern summer nesting locations for pelicans). We'll end our paddle around 1:00 p.m., with time for lunch and a walking tour of Tylerton. We'll load the boats back on the Capt. Jason II around 3:00 pm for arrival back in Crisfield around 4:30 pm.
The cost is $75/person with your own kayak, and $150/person with a rented kayak. Trip cost includes ferry transportation for you and your boat to and from Smith Island. You can bring your own lunch, but we highly recommend buying lunch at the world-famous Drum Point Market on Tylerton.
TIME: 8:30 am – 4:30 pm
MEETING LOCATION: Crisfield City Dock
END LOCATION: Crisfield City Dock
WATER BODY: water trails around Tylerton on Smith Island, MD
OUTFITTER: Pocomoke River Canoe Company
LIMITED TO: 12 participants (we need a minimum of 6 to run the trip)
LEVEL: Moderate
COST: $75/person if you bring your own boat, $150/person if you need to rent a solo kayak
Please contact Jim Rapp at dlitedirector@comcast.net if you are interested in paddling Smith Island this fall!